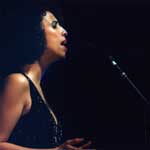 PAULA MORELENBAUM
Brazilian singer Paula Morelenbaum returns once more to the music of Brazil's master of bossa nova, Antonio Carlos Jobim, on Casa. A tribute to the music of the late Jobim, it features Ryuichi Sakamoto in collaboration with the singer and her husband, cellist Jaques Morelenbaum - a first for the trio under the group name Morelenbaum2/Sakamoto. The recording, to be released internationally by Sony Classical this summer, takes its title from the fact that it was made in Jobim's home in Rio de Janeiro, and it features music by Jobim that has never before been recorded. Casa continues Paula Morelenbaum's long association with Jobim's music that began in 1984, when the composer invited her to join his group Nova Banda. In the next decade, until the death of Jobim (affectionately known as Tom) in 1994, she was a featured soloist/vocalist on his albums Passarim, Antonio Brasileiro and Tom Jobim: inedito, as well as the recently released CD Tom Canta Vinicius. The singer also performed in concerts with Jobim in Brazil, Japan, Europe, Canada, and around the U.S., notably at New York's Carnegie Hall and Lincoln Center.

In 1995 Paula Morelenbaum joined her husband and Jobim's son Paulo and grandson Daniel to form Quarteto Jobim Morelenbaum. The quartet has toured the world performing the music of Jobim, and it made its self-titled first recording in 1999.

The singer began her professional career in 1979 in the vocal group Ceu da Boca, singing on the albums Ceu da Boca and Baratotal and touring extensively throughout Brazil with the group. In addition to her work with Jobim, she sang and acted in Antonio de Bonis' 1989 musical Lamartine para ingles ver, co-starring Vera Holtz, Guida Vianna and Fabio Junqueira.

Paula Morelenbaum kicked off her solo career the following year in New York, where she sang club dates with American musicians at New York's Birdland and other jazz clubs around the US. In 1993, she released her first solo CD Paula Morelenbaum, produced by Jaques Morelenbaum, who also performed on and arranged several tracks. The album features songs by Gilberto Gil, Tom Jobim, Chico Buarque, Caetano Veloso, Rita Lee, Arrigo Barnabe, Paulo Jobim, Jose Miguel Wisnik, George Gershwin and Vinicius de Moraes. In the same year the singer won the Sharp Music Award in the category of Best New Pop-Rock Female Artist.

In 1994, Paula Morelenbaum toured Brazil in the show Chica-chica-boom-chic, in which she performed the hits from the legendary Brazilian singer Carmen Miranda new arrangements she created.

Prior to Casa, Paula Morelenbaum joined her husband and Ryuichi Sakamoto on Sakamoto's recording Smoochy. She has also recorded songbook collections produced by Almir Chediak and performed on a number of film soundtracks, including Antonio Pinto's score for Helvecio Raton's film Menino Maluquinho.