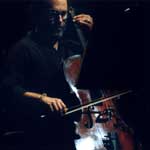 Jaques Morelenbaum
In the career of the Brazilian cellist Jaques Morelenbaum, both Antonio Carlos Jobim and Ryuichi Sakamoto have figured as important creative partners. With the international release this summer of Sony Classical's new recording Casa, the cellist renews both associations as he joins Sakamoto in a celebration of Jobim's music that also includes his wife, singer Paula Morelenbaum. Casa takes its title from the fact that it was recorded in the Rio de Janeiro home of the late Jobim, and it features several of his works that have never before been recorded. The album is the first by Sakamoto and the Morelenbaums under the group name Morelenbaum2/Sakamoto.

Jaques Morelenbaum has performed on more than 470 recordings, working with such artists as Jobim, Caetano Veloso, Gal Costa, Sting, Milton Nascimento and Chico Buarque, among others. He began performing with Sakamoto in 1993 and has since toured the world performing Sakamoto's music. Morelenbaum is featured on Sakamoto's albums Smoochy and 1996, and, in 1999, he performed in Sakamoto's opera Life.

In 1995, the year after Antonio Carlos Jobim's death, Jaques Morelenbaum founded Quarteto Jobim Morelenbaum with Paula Morelenbaum and Jobim's son and grandson, Paulo and Daniel. The quartet has performed the music of the late Jobim around the world, releasing its first album in 1999. In 1994, as a member of Jobim's Nova Banda (New Band), Morelenbaum performed on the Grammy Award-winning album Antonio Brasileiro. In 1992 and 1993 he worked with Egberto Gismonti on the albums Infancia and Musica de Sobrevivencia. In 2001 he collaborated with Sting on his album and DVD All This Time.

In recent years, Morelenbaum has been one of the most in-demand arrangers in the Brazilian record industry. He has collaborated with Jobim (Passarim, O Tempo e o Vento, Tom Jobim Inedito and Antonio Brasileiro); Caetano Veloso (Circulado, Circulado Vivo, Fina Estampa, Fina Estampa ao Vivo, Tieta do Agreste, Livro, Prenda Minha, Orfeu do Carnaval, Homaggio a Federico e Giulieta and Noites do Norte and Noites do Norte ao vivo); Gal Costa (Mina d'agua do meu canto), Beto Guedes (Dias de paz), Joao Bosco (Na esquina), as well as the project Piazzollando, a homage to the work of Astor Piazzolla. Morelenbaum recently created arrangements for Marisa Monte, Carlinhos Brown and the group Titas, whose album Titas Acustico has sold 1.5 million copies in Brazil. Morelenbaum's work now extends beyond the borders of Brazil, in collaborations with such best-selling artists as Cape Verde's Cesaria Evora, Spain's Clara Montes and Presuntos Implicados, Portugal's Dulce Pontes and Rui Veloso, Japan's Choro Club and Gontiti, and America's David Byrne.

Jaques Morelenbaum himself has produced a total of 43 albums. For Jobim, he produced Passarim, which Jazziz Magazine hailed as one of the most outstanding recordings of the 1980s. His eight albums for Caetano Veloso include Circulado Vivo, Fina Estampa, Fina Estampa ao vivo, Tieta do Agreste, Livro (the 2000 Grammy winner as best World Music album), Prenda Minha and Noites do Norte, and Noites do Norte ao vivo. Morelenbaum has also produced Gal Costa's Mina d'agua do meu canto and Joao Bosco's Na esquina.


As a film composer, Morelenbaum is best known internationally for his score (with Antonio Pinto) for Walter Salles's acclaimed drama Central do Brasil (Central Station), which won the top prize at the 1998 Berlin Film Festival and an Oscar nomination as Best Foreign-Language Film. With Caetano Veloso, he also created the music for Fabio Barreto's O Quatrilho (1995), also an Oscar nominee for Best Foreign-Language Film, and Caca Diegues' Orfeu do Carnaval.. Morelenbaum's debut as a film composer came with the score for Carlos Del Pino's A republica dos anjos. He has also composed the soundtrack for the short film Agua morro acima by Maria Leticia and Tieta do Agreste by Caca Diegues (1996), in the triple role of producer, arranger and cello soloist. His most recent film assignment was composing and conducting the soundtrack for Fabio Barreto's A Paixao de Jacobina, which is yet to be released.